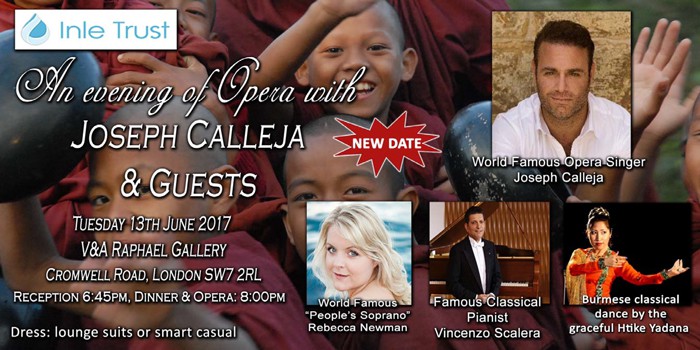 Click here to reserve your ticket to see Joseph Calleja
A live concert event will take place in a premier venue on Tuesday 13th June 2017 in London featuring the world famous opera singer, Joseph Calleja. The event will be focused on raising funds for the continuation of the monastery work currently going on in Burma -a project supported by His Holiness The Dalai Lama and for helping the vulnerable children in the Maltese community.
World famous Venue: London V & A Raphael Gallery
Format: Dinner for 400 high net worth individuals & Live Opera by Joseph Calleja & Friends
Charity: The Inle Trust www.inletrust.org.uk Charity to help a monastery school & orphanage at Inle Lake, Myanmar
Date : 13th June 2017
It is also hoped that the event will be televised and a documentary featuring the event will also be released nearer the time
The opportunity for the sponsor is to be embedded in this project, receiving brand exposure across the documentary and event and broadcasting it on their channel (for those sponsors that are broadcasters).
For further information contact:  Email: Trustees@inletrust.org.uk
Mobile +44 (0) 7770885540 – Feroze Dada